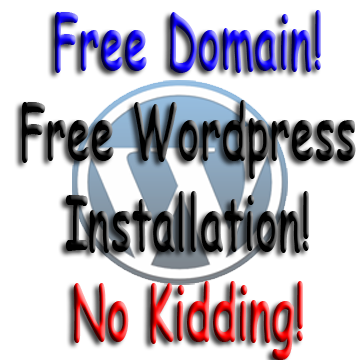 Free? Yes.
Consider the cost of a site:
Domain registration- typical cost $10-15

Website Design- $150 and higher

Hosting- $72 and up

Email Accounts- Depends.

Setup Fees- $25 and up.
It adds up quickly.
However, by using the officially recommend WordPress hosting company, BlueHost, you'll be saving yourself the cost of a Domain and WordPress setup fees. Sure, you can host for free on other sites but not with your own domain. You'll have to use a subdomain such as yourdomain.TheMainSiteDomain.com. It'll work but you don't want that, especially if it's for your business. So, there's no getting around the hosting fees. Since you have to pay them anyway, why not take advantage of the free Domain and installation?
You can get around most of those initial fees in this manner:
If you use the BlueHost link here or on the left or right of this article and signup for one year of hosting, you'll get:
Unlimited Domain Hosting
Unlimited Email Accounts
Unlimited Space
I'll include a free WordPress Installation. Typically I'll charge $25 to setup an account but I'll set it for free if you use the activation links on this page. I'll also install WordPress for you. All you'll have to do is login to the WordPress site under your domain.
You can then polish up the site using some free templates or get some nice templates from ElegantThemes. You can get a very nice, custom site from them for only $39!
Here's what you need to do:
Signup for BlueHost using here or using the links on this page. They'll ask you for the domain name you'd like to use. Don't worry, you don't need to have the domain setup yet.

Use the contact information page to let us know when the BlueHost activation is complete. Include your phone number in the message so that we can contact you.

Once you contact us, we'll work with you to find a Domain Name for your site.

We'll setup the WordPress installation for you and provide the login information.
There, you'll be ready to start updating your new site!
However, you may want to go beyond the standard WP templates and delve into a more personalized look for your website. You can contact us in order to get started on your custom design.