This article will reveal the hidden costs of hosting with GoDaddy. The charges add up and what at first seems like a cheap hosting package ends up costing more that other competitors. Let's break down the cost for hosting a website with the following two criteria:

5 emails that can be synchronized with between a phone, desktop, laptop, etc.
A domain with the option to add a second website in the future.
Click to Enlarge Image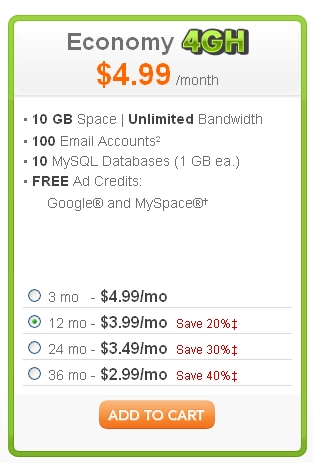 Email in the GoDaddy Economy Plan
GoDaddy advertises their economy plan at $4.99/month with 100 emails. Click the image on the right to see the details. Notice the "2" on the right side of the "100 Email Accounts" bullet. The disclaimer is below:
2Email account storage is limited to the following: Economy Plan 100 Email Accounts with 100 MB of storage, Deluxe plan: 500 Email Addresses with 500 MB of storage, Ultimate Plan with 1,000 Email addresses with 1 GB of storage.
Click to See Large Image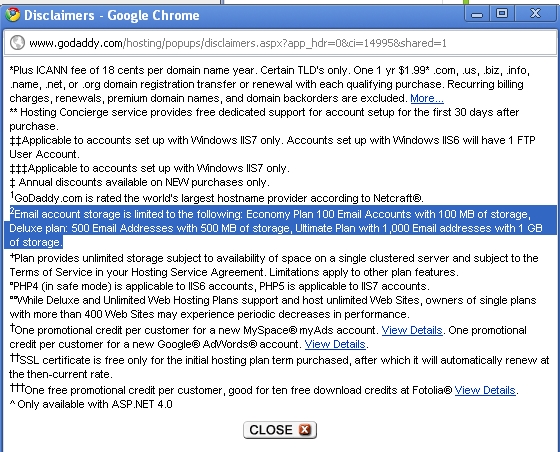 That means that the $4.99 package only allots 100MB of storage. So, if a client or a friend has a 10MB zip file to send you, there can only be 10 such emails sitting in the inbox before the capacity is filled. If this is distributed among 5 users, or 5 email names, then each user only gets a measly 20MB of storage. It's time to upgrade! Time to pay more! Godaddy hosting just costed more. Let's see how much:
Click to Enlarge Image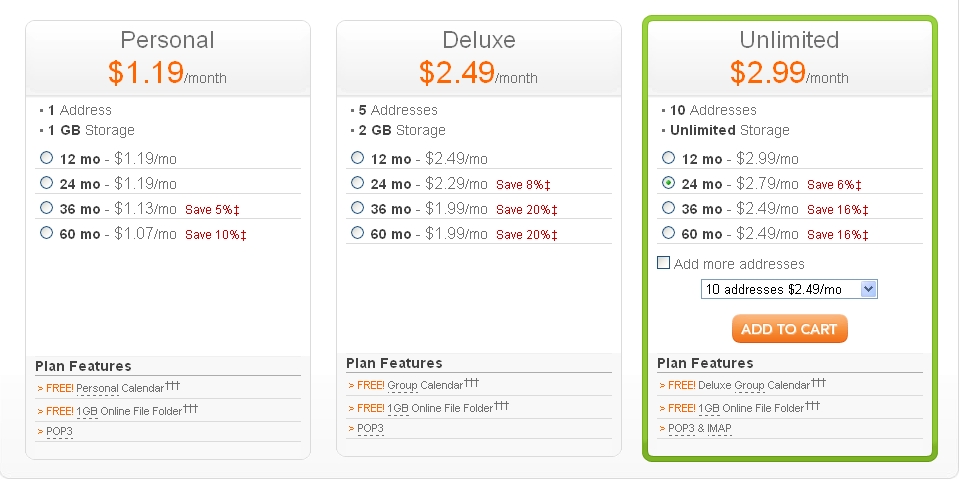 Well, 5 emails will only cost $2.49 more. Sound goods. However, notice the little word "POP3" at the bottom of the Deluxe plan. If you want to access your email from your phone, work computer, or home laptop, then you'll need IMAP mail.
POP3 does not synchronize the status of emails across different access points. Let's say 10 emails arrive in the inbox during the day. They can be read using POP3. That's fine. But when accessing them from another computer the status will not be updated and the 10 emails will be labeled as "unread". What if you responded to the email? If you responded at work the responded status will not be shown at home. That's why IMAP email is important.
IMAP will not only download emails, but it'll also synchronize the status. The moment an email is read from the phone, it'll update the status on the home and work computers as well. That means that the price for IMAP mail just went up. It's time to pay more! Godaddy hosting just costed an additional $2.99. So far the cost is $7.98
Multiple Websites in the GoDaddy Economy Plan
Now it's time to look at the website costs. A single domain is included in the Economy plan. If you'd like to add a second domain, guess what… yes, that will be an additional charge! How much more? Let's see:
Click to Enlarge Image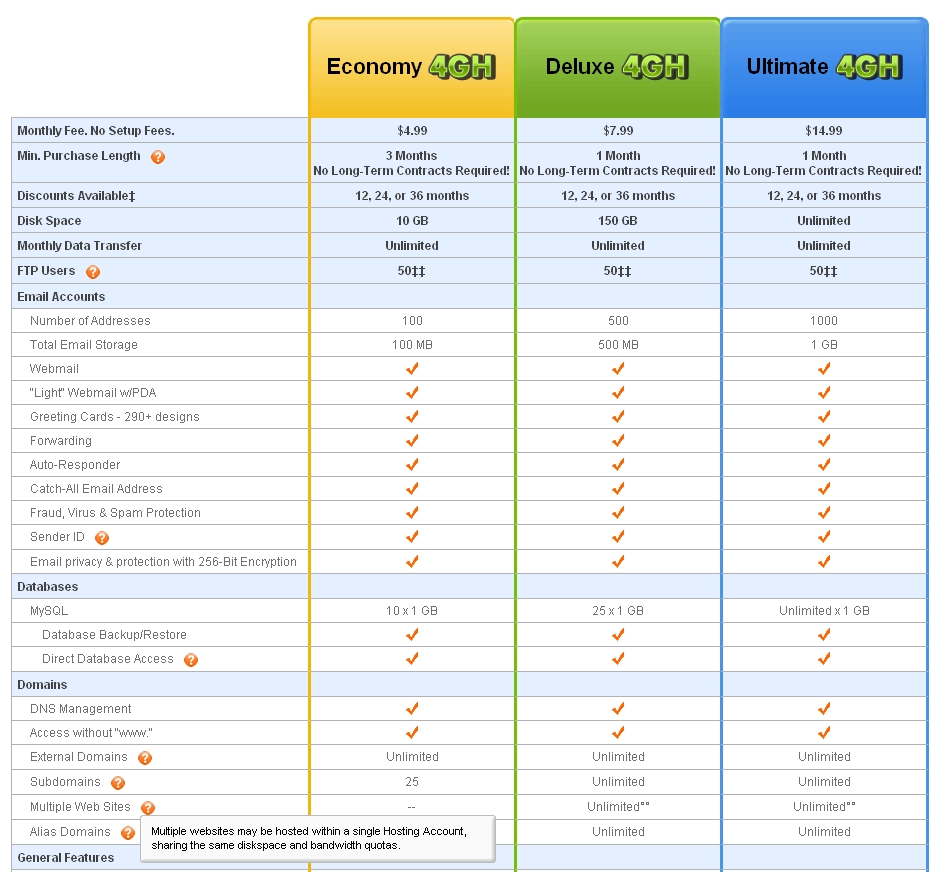 Hovering over the question mark after the "Multiple Websites" the text says "Multiple Websites may be hosted within a single Hosting account, sharing the same diskspace and bandwidth quotas." Notice that only the Deluxe and Ultimate packages offer multiple websites. Yes, Economy does offer "Multiple Domains". But that only means that DomainA.com and DomainB.com can point to the same website that's hosted on GoDaddy. The limitation is that if a second website is needed …. you already know where this is going… Godaddy hosting's fee just increased by $3. The total is now $10.98 a month! This is outrageous!
Let's not forget that your website also requires a domain registration. GoDaddy offers domain registration for $1.99 That doesn't sound so expensive until you consider that other hosting companies, such as BlueHost, include that for free with their hosting packages. Doesn't GoDaddy's pricing start to sound more and more like the airline industry?
My main motivation is to have you know this upfront. Unfortunately, many of our clients have already selected GoDaddy previous to requesting our services and it's uncomfortable to have to communicate to them that they need to upgrade both their hosting and email accounts to fulfill the simple two criteria established in the beginning of this article.
Now, contrast that to BlueHost which offers unlimited emails (IMAP and POP3), unlimited Domains/Websites, and a free domain registration for $4.95/month!
Take a look at their prices and decide for yourself.
Click to view their offers.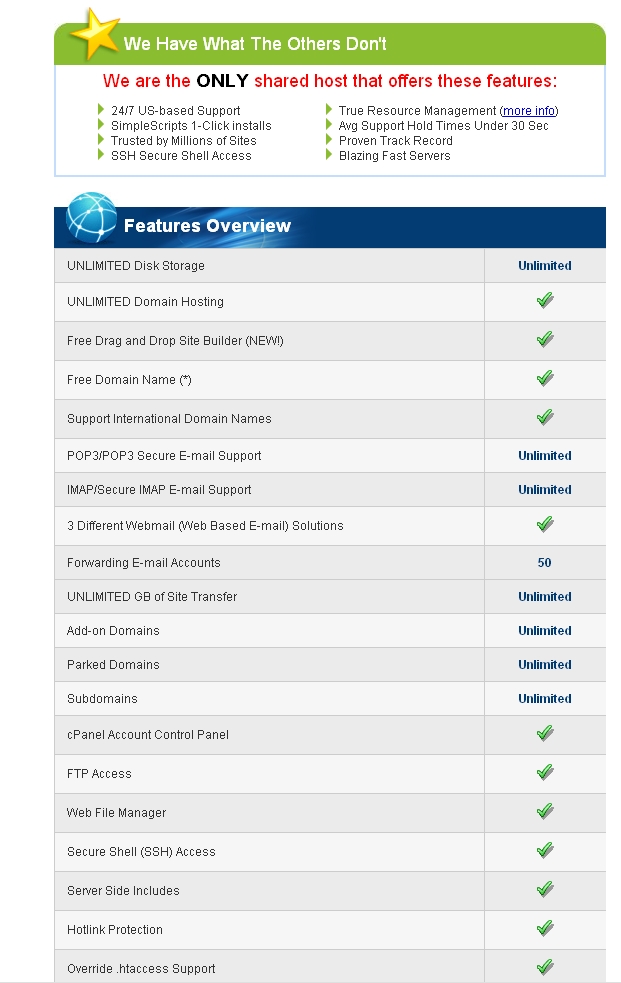 This does not take into consideration the GoDaddy performance. If your website is a WordPress or Joomla website, then you might be interested in reading Why You Shouldn't Host with GoDaddy or Recommended WordPress Hosting.